Product Details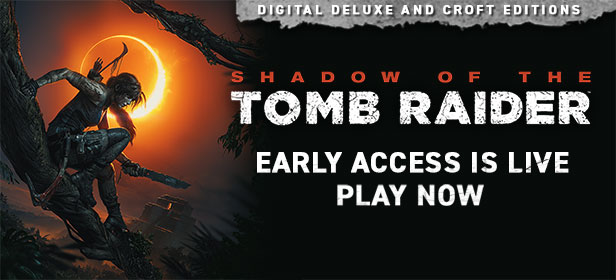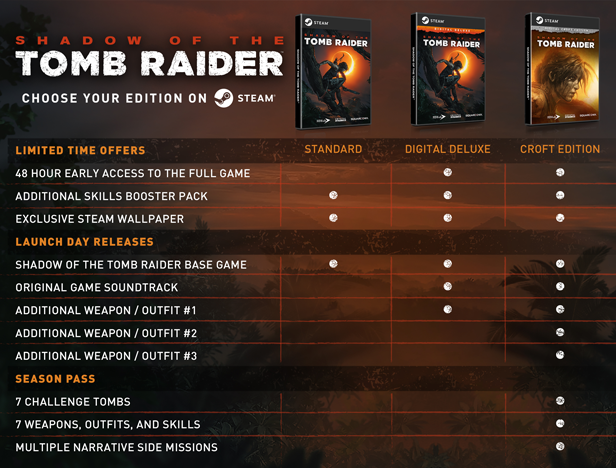 Season Pass
The Shadow of the Tomb Raider - Season Pass includes the following content:



7 challenge tombs




7 weapons, outfits, and skills




Multiple narrative side missions




1 of each of the above will be exclusive to the Season Pass


Following a first Weapon/Outfit drop on Sep 14th, Season Pass content will release on a monthly basis starting in October 2018.
Be sure to secure your Season Pass today!
Reviews & Accolades
"By showing the real consequences of Lara's actions, developers Eidos Montreal and Crystal Dynamics believe Shadow of the Tomb Raider will be a watershed moment in the life of the young adventurer, maturing her into the expert adventurer we know and love." - GameSpot

"It is a genuinely gorgeous game, with some of the largest hub areas in the entire series…but it's the darkness that has this addition to the franchise feeling fresh, and has me eager to learn more." - IGN

"Past Tomb Raider games have revelled in the absurdly lethal challenges Lara must conquer. Placing the blame on Lara is a new twist, however, and the stakes have been dialed up to 11." - Digital Trends

"It's El Día de los Muertos, a giant celebration to pay respects to the deceased. Lara carefully navigates the crowded city, as she's completely surrounded by the vibrant festivities. It looks absolutely incredible." - Destructoid
Info over het spel

Experience Lara Croft's defining moment as she becomes the Tomb Raider. In Shadow of the Tomb Raider, Lara must master a deadly jungle, overcome terrifying tombs, and persevere through her darkest hour. As she races to save the world from a Maya apocalypse, Lara will ultimately be forged into the Tomb Raider she is destined to be.
KEY FEATURES


Survive and Thrive In the Deadliest Place on Earth: Master an unforgiving jungle setting in order to survive. Explore underwater environments filled with crevasses and deep tunnel systems.




Become One With the Jungle: Outgunned and outnumbered, Lara must use the jungle to her advantage. Strike suddenly and disappear like a jaguar, use mud as camouflage, and instill fear in enemies to sow chaos.




Discover Dark and Brutal Tombs: Tombs are more terrifying than ever before, requiring advanced traversal techniques to reach them, and once inside they are filled with deadly puzzles.




Uncover Living History: Discover a hidden city and explore the biggest hub space ever found in a Tomb Raider game.